Wichita Personal Injury Lawyer
Were you severely injured in Wichita due to someone else's negligence? You may be entitled to recover compensation for your medical bills, lost wages, and pain and suffering from the parties responsible for causing your injuries and losses. We're here for you when you need help understanding your legal options for obtaining compensation and what is involved in the personal injury claims process. Turn to a personal injury lawyer in Wichita, KS from Mann Wyatt Tanksley Injury Attorneys for help.
As one of Wichita's most qualified personal injury law firms, our legal team diligently pursues maximum financial compensation and justice for our clients who have been injured due to the fault of others. We believe that getting you the best results possible in your case means providing our full effort and resources. By limiting the number of cases we handle, we can offer you the service you deserve.
If you have been hurt in an accident in Wichita, don't put off talking to an experienced personal injury attorney about your case. Reach out to Mann Wyatt Tanksley Injury Attorneys today for a free initial case evaluation. We'll discuss your legal options for pursuing financial recovery for your injuries.
Personal Injury Lawyers in Wichita, KS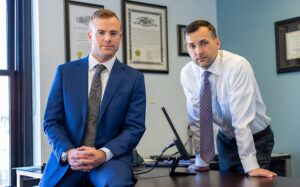 The personal injury law firm of Mann Wyatt Tanksley Injury Attorneys represents clients in Wichita and throughout Kansas, as well as in Missouri, Oklahoma, and Colorado. Since 1999, our firm has advocated for the interests of accident victims. Our Wichita personal injury attorneys bring more than 50 years of combined legal and litigation experience to the table when we pursue financial recovery for the people we represent.
Over the past two decades, we have established ourselves as one of Wichita's most successful personal injury firms, with proven track records in cases involving car accidents, truck accidents, workers' compensation, and wrongful death.
Our Wichita personal injury attorneys understand that recovering from your injuries is about more than just money. It's also about holding the at-fault party accountable and reestablishing your quality of life. We are deeply grateful for our clients who choose us to help them recover from their injuries and losses.