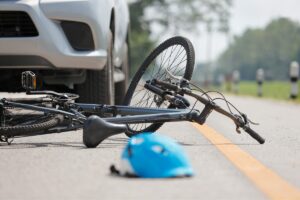 At Mann Wyatt Tanksley Injury Attorneys, we have a combined half-century of trial and litigation experience. Our trusted attorneys are committed to seeking justice and fair compensation for every accident victim we represent. We understand your challenges and will work tirelessly to achieve the outcome you deserve. Contact our Wichita bike crash attorneys today for a free case evaluation.

Common Causes of Bike Accidents
Although multiple factors can contribute to bicycle accidents, they are often caused by careless or inattentive drivers. A motorist may not see a bicyclist or react too slowly to avoid a collision. The most common causes of bike crashes include the following:
Right-turn accidents — When drivers do not slow down or stop before making right-hand turns, they risk hitting bicyclists crossing the street who have the right-of-way.
Backing-up accidents — A driver backing out of a parking space should always check their rearview mirror for pedestrians and bicyclists behind them.
Distracted driving — Distractions like texting, talking on a cell phone, or eating can take a motorist's focus away from the road ahead. Distracted drivers might not notice bicyclists in their paths until it's too late.
Dooring accidents — A dooring accident occurs when a driver opens their car door in the path of an approaching bicyclist. After parking, drivers should always look before opening their doors.
Sideswipe collisions — A driver can sideswipe a biker traveling alongside the vehicle if they drift or swerve into the bicycle lane.
Rear-end accidents — Motorists who follow a bicyclist ahead of them too closely may not brake in time to avoid rear-ending the bicyclist, which can result in catastrophic injuries.