Motorcycle Laws in Kansas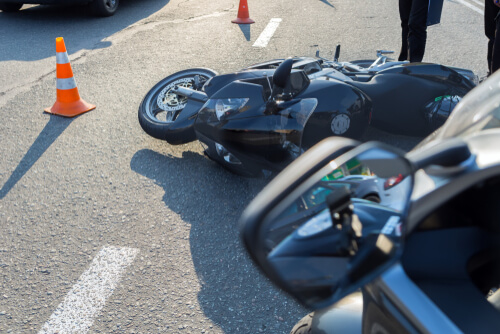 Kansas has many excellent roads for motorcyclists. Many people enjoy riding motorcycles across the state, taking in the fantastic scenery and having fun riding on a twisty highway. However, safely enjoying Kansas by motorcycle requires familiarizing yourself with the state's motorcycle laws. Those laws include licensing and registration requirements, equipment requirements for your motorcycle, helmet requirements, and rules for safe driving.
With more than 50 years of combined legal experience representing clients in motorcycle accident claims across Kansas, Mann Wyatt Tanksley Injury Attorneys is committed to rider safety. If you've been involved in a motorcycle accident in Kansas, we can review your case for free and explain your legal rights.
Kansas Motorcycle Helmet Law
Kansas' helmet law requires that all people under 18 wear a helmet that meets U.S. Department of Transportation (DOT) standards while riding on a motorcycle or moped. Any helmet that meets DOT standards will have a DOT sticker placed on the inside of the helmet by the manufacturer. Helmets may also have stickers showing testing certification from independent laboratories, such as Snell or ANSI, the standards of which equal or exceed DOT standards. The helmet should also have a label displaying the manufacturer and model name of the helmet, the helmet's size, the month and year of manufacture, and the construction materials.
Kansas law does not require adults to wear helmets while on a motorcycle. However, adults should still wear a helmet that conforms to DOT standards. If you're injured in an accident while not wearing a helmet — even if the accident was caused by someone else — your right to compensation for your injuries could be impacted by Kansas's comparative negligence laws. Your failure to wear a helmet may be seen as negligence contributing to the severity of your injuries, which could reduce your level of compensation.
In addition, all motorcycle drivers are required to wear eye protection, unless their motorcycle is equipped with a windscreen at least 10 inches high, measured from the center of the handlebars. Appropriate eye protection includes protective glasses, goggles, or a transparent face shield on a helmet. Eye protection must be both shatterproof and impact-resistant, free of scratches or blemishes. The equipment must also be spacious enough to prevent fogging or to allow you to wear prescription glasses or sunglasses as necessary. Motorcycle passengers must always wear eye protection, even if the motorcycle is equipped with a windshield.
Kansas Motorcycle License Requirements
You must possess a Class M license or endorsement on your driver's license to lawfully operate a registered motorcycle in Kansas. You can obtain a license if you are 17 or older and satisfy all other requirements for obtaining a driver's license. You must provide both proof of identity and Kansas residency. Riding a motorcycle without the proper license constitutes a class B misdemeanor. A conviction for this charge can carry a sentence of up to six months in jail and a potential fine of up to $1,000.
To obtain a motorcycle license, you must pass both a written knowledge test and an on-road skills test. The knowledge test will determine whether you understand road rules and safe riding practices. The skills test, conducted either on the road or in an off-street controlled area, will assess whether you can demonstrate basic motorcycle control and crash-avoidance skills.
Kansas Motorcycle Requirements
To lawfully operate a motorcycle in Kansas, it must have at least one functioning headlight, taillight, brake light, and horn. Motorcycles manufactured beginning in 1973 must also have functioning electric turn signals. The motorcycle must have a functioning light above the registration plate and a red rear reflector. All motorcycles manufactured beginning in 1975 must have a side-view mirror mounted on the motorcycle's left side. If your motorcycle was manufactured after January 1, 1978, your headlight must be the always-on type.
A motorcycle that will carry passengers must either have a saddle designed for two people or a separate seat for the passenger. The passenger must also have separate footrests.
Motorcycles kept in Kansas must be lawfully registered and titled in Kansas to be legally driven on public roads.
Motorcycle Safety Laws
Kansas law prohibits lane-splitting by motorcycles. Motorcycles may not be operated on traffic lines or in between lanes of vehicles. In addition, motorcycles are entitled to the full width of a lane of traffic. No vehicle may be driven alongside a motorcycle in the same traffic lane, except that two motorcycles may ride abreast in the same lane of traffic. Any vehicles that wish to pass a motorcycle must move over to the adjacent left lane (if legal to do so).
Kansas law also requires all motorcycle operators to carry at least a minimum amount of insurance coverage, including:
$25,000 per person/$50,000 per accident of bodily injury liability coverage
$10,000 per accident of property damage liability coverage
$25,000 per person/$50,000 per accident of uninsured/underinsured motorist coverage
If you have questions about Kansas's motorcycle laws and how they affect your legal rights, contact Mann Wyatt Tanksley Injury Attorneys today. Our knowledgeable motorcycle accident lawyers are always available to help.