Hit & Run Accident Attorneys in KS, MO, OK & CO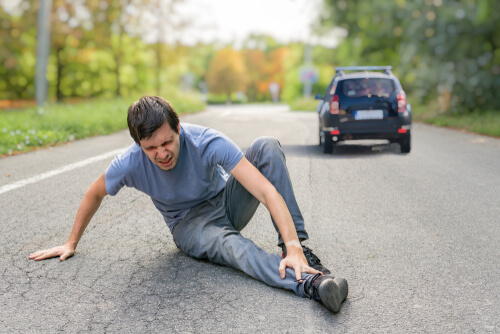 Car accidents are complicated enough to begin with. The situation gets worse when the driver responsible for the collision flees the scene. The person may have fled the scene for various reasons, such as lack of insurance coverage, outstanding warrants, fear, etc. But you shouldn't have to deal with the consequences of an accident that was not your fault. An experienced hit-and-run accident attorney can help you understand your options for pursuing the compensation you deserve.
For more than two decades, the dedicated legal team at Mann Wyatt Tanksley Injury Attorneys has worked tirelessly to protect the rights of hit-and-run accident victims throughout Kansas, Missouri, Oklahoma, and Colorado. Let us help you pursue all your available options for recovering compensation for your medical bills, lost wages, pain and suffering, and lost quality of life after your accident.
When you choose our firm to help with your case, you can expect personalized attention and savvy legal representation. You also do not pay any fees for our services unless we recover compensation for you. Contact us today for a free case review with a knowledgeable hit-and-run accident attorney.
What to Do If You Are Hurt in a Hit-and-Run
It is normal to feel a sense of helplessness after a hit and run. Still, there are some things you can do to possibly help find the driver and to protect your legal rights:
Call 911 or law enforcement. Report your accident to begin the investigation process. Officers will work quickly to try to track down the other driver. Leaving the scene of a motor vehicle accident constitutes a criminal offense (especially if it results in injury to others).
Save any photos and write down what you remember immediately. If you were able to get any photos of the vehicle, those will be incredibly helpful. Save them for yourself even after you share them with law enforcement. Also be sure to write down anything you remember about the make, model, color, and license plate number of the fleeing vehicle. If you got a look at the driver, write down what you remember about him or her. Memories can fade quickly. So the sooner you document any details, the better.
Take photos of the accident scene. Take photographs or video of damage to your vehicle, including dents and scrapes that may contain paint from the vehicle that hit you. Also, take photos of any pieces of the other vehicle that may have broken off in the accident, since they can be used to potentially identify the vehicle. Also take photos of the traffic controls at the scene, skid marks on the road, and any other details that you think may be helpful in investigating your crash. If you suffered any visible injuries, photograph them as well.
See a medical professional. You should get examined at the emergency room or urgent care clinic or by your primary care doctor as soon as possible after your accident. A doctor can document the injuries you suffered in your accident and ensure you get timely treatment.
Consult with an attorney. Finally, you should schedule a free consultation with a hit-and-run attorney from our firm to begin the process of pursuing your options for obtaining compensation.
Evidence That Can Be Used in a Hit-and-Run Case
Evidence in hit-and-run accident claims can prove incredibly important. At Mann Wyatt Tanksley Injury Attorneys, our hit-and-run accident lawyers will look at evidence such as:
The police accident report
Accident scene photos
Vehicle damage debris (which can be used to identify the make and model of the vehicle)
Eyewitness statements (who might describe the fleeing vehicle or remember its registration number)
Dashcam or surveillance footage from nearby businesses, which can show the accident occurring and identify the at-fault vehicle that fled the scene
In addition to gathering evidence that can help identify the driver who hit you, we will gather evidence of the damages you suffered. This may include medical records, paystubs, and journals documenting how your injuries affect you on a daily basis.
Compensation After a Hit-and-Run Accident
If you've been the victim of a hit-and-run accident, you deserve financial compensation for your injuries and the losses you've suffered. After a collision with another motor vehicle, you likely have incurred damages including:
Medical expenses, including ER visits, doctor's appointments, surgeries and other medical procedures, physical and occupational therapy, pain medication, mobility equipment like crutches or wheelchairs, and other out-of-pocket expenses like copays or transportation to appointments and procedures
Personal and home care costs, including home health services or renovations to your home to accommodate disabilities
Lost income for the time you missed from work during recovery
Lost earning potential if you suffer disabilities from injuries that prevent you from returning to your pre-accident job
Pain and suffering, or the emotional and physical distress caused by your injuries
Lost enjoyment or quality of life caused by disabilities or disfigurement
In most personal injury cases, you would receive compensation for your damages from the party or parties responsible for your injuries. However, in a hit-and-run accident, you may not know the identity of the driver. Fortunately, you still may have options for obtaining the compensation you deserve.
For example, your own auto insurance policy could contain uninsured motorist coverage. Uninsured motorist coverage is intended for cases where the at-fault motorist does not carry the motor vehicle insurance coverage required by law. In a hit-and-run accident, the at-fault driver who flees the scene is presumed not to have auto insurance. As a result, you may be entitled to make a claim under the uninsured motorist coverage in your auto insurance policy.
How Our Hit-and-Run Accident Lawyers Can Help You
After a hit-and-run accident, you may feel like you've been left with a serious financial burden by someone you can't hold accountable. Fortunately, you have options. At Mann Wyatt Tanksley Injury Attorneys, our hit-and-run accident attorneys will fight for the full financial compensation you deserve by:
Conducting a thorough investigation of your claim to recover all available evidence and try to identify the at-fault driver who fled the scene
Reviewing your own insurance coverage to determine all available options for seeking compensation
Working with expert witnesses to help us build a strong, persuasive argument for securing full compensation of your damages
Filing insurance claims on your behalf, whether with the insurer of the at-fault driver (if located) or with your own insurance company under the uninsured motorist coverage in your policy
Preparing to take your case to trial, in case the insurance companies refuse to pay you the fair and full compensation you deserve
Contact us today for a free consultation with one of our knowledgeable hit-and-run accident lawyers to learn more about your legal rights. We do not charge anything upfront to begin work on your case. And you don't owe us anything unless we recover money for you.